Tea Redefined.
Since 2014, HeavenLeaf™️ has been hand-crafting products that redefine the harmony of nature and innovation. With the ancient Camellia sinensis plant at heart, HeavenLeaf continues to produce innovative experiences that defy the bounds of our imagination.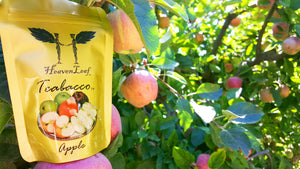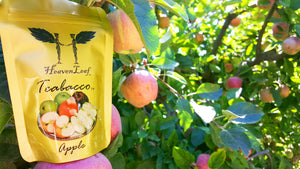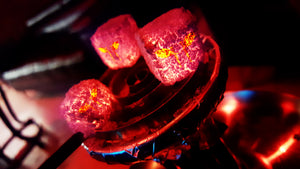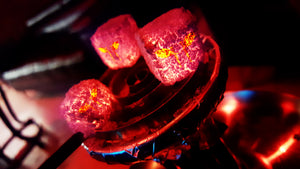 "Is It Possible?"
Before HeavenLeaf redefined the concept of shisha across the globe, a question had arisen: is the hookah industry bound to tobacco, or is there more to explore over the horizon? This question became the foundation of the brand's curious beginnings. And with that, our first batch was created.
Throughout the following weeks, the recipe was continually improved upon, our team working tirelessly to master the delicate balance of the essential aspects that make the perfect bowl: taste intensity, body robustness, cloud output, session longevity, and packing flexibility.
Once local and international shisha smokers shared their astonishment after enjoying a bowl, we knew the recipe was ready.
TEABACCO™️
And thus, Teabacco™️ grew over time to become the Official Standard in non-tobacco shisha, recognized by connoisseurs worldwide. From our first batch to today, the recipe is ever-evolving, staying true to the philosophy of continuous improvement.
Read our story
From Nature With Love
Sourced from only the best, carefully balanced and delicately blended.
THE SECRET RECIPE
A unique blend of the finest food-grade ingredients, sourced from the highest quality producers, is at the heart of every product we craft.
SEE OUR INGREDIENTS
WHAT SHISHA CONNOISSEURS SAY
★★★★★

I was very reluctant to try another non-tobacco shisha as the last brand that I tried was a horrible experience. The owner was gracious enough to give me some samples to try and I have to tell you... they're AWESOME! Very full flavors, thick clouds and an enjoyable smoke session. If you're looking for a great alternative to regular tobacco or you just want another awesome brand to have on your hookah shelf, HeavenLeaf is your brand!

Jesse Sullivan

Los Angeles, CA
★★★★★

The first flavor I tried was maple pancake.. man it tastes just like it it was unbelievable. The next favors I tried was a mix of lemon zest and peppermint.. it was a great session big clouds, you can taste the flavor with every pull, and a hit of bitterness from the tea. And for tea connoisseurs you guys would love this product. Now you can smoke tea which is a great alternative to Tabacco.. no buzz, nicotine, all natural flavors and ingredients so it's like smoking without smoking. I recommend this product to anyone trying to find an alternative to tobacco and what is great about HeavenLeaf is you can mix it to with any other brand of shisha to enhance the flavor of hookah. Hopefully I'll be fortunate enough to try all their flavors 😁

Romeo Jerome Bautista

Los Angeles, CA
★★★★★

@heavenleafsmoke lemon zest! One of my all time favorite lemon flavors only complimented more by the herbal and slight tea note this tobacco alternative is known to give off. Have you tried HeavenLeaf yet?

Rob Pecoraro

Los Angeles, CA
★★★★★

Hi guys and gals, so a while back I posted on here that I kept getting headaches and just wasn't enjoying my hookah experience anymore. My tolerance for tobacco was just non existent ( no idea why ) so on the recommendation from a few members I tried HeavenLeaf Teabacco. I tried peppermint and orange and omg it was amazing. Firsty no headaches (yay) second, the flavours were so spot on and rich, third, the clouds were huge. Such a great smoke session and now I can go back to enjoying my hookah experience. Thankfully its also not too expensive here in Australia ( compared to tobacco prices ) so I will be stocking up and enjoying even more so. I cant remember exactly who got me on to HeavenLeaf but thank you

Michelle Sambati

Los Angeles, CA
★★★★★

Customer services is outstanding! Love the natural flavors they taste so good and I enjoy every flavor I tried. Flavors mix well with other brands or by themselves.

Dana Marie DeCherico

Los Angeles, CA
★★★★★

I love the HeavenLeaf brand Teabacco! I was lucky enough to get some of their best flavors and let me tell you....it is truly amazing. Their strawberry teabacco is my favorite. I highly recommend this brand to anyone who loves hookah!!!

Anna Anya

Los Angeles, CA
★★★★★

Some of the best flavors on the the market. Maple Pancake and Blueberry is one of my favorite mixes. Really recommend

Andrew Ehrsam

Los Angeles, CA
★★★★★

First time trying out Teabacco during our vacation. Absolutely amazed at both the taste and the smoke quality. Recommend you all who haven't tried it to give it a try!

Arman Khachatryan

Los Angeles, CA
★★★★★

HeavenLeaf Teabacco first test (Peppermint)The cut is a bit coarse and as everyone else suggested, I cut it up some. Looked and felt mainly glycerin soaked in the tea leaves. Packed in a Pico Semi dense just below rim with 2 Titanium flats on my Likesmoke v1. Peppermint flavor is spot on with a nice cooling sensation on the throat just like the red and white peppermint candies. When you throw on some heat, I also got a faint tea flavor, which compliment the peppermint flavor very well. The smoke density is fairly light compared to normal flavored tobacco BUT still performs as a tobacco alternative. This would mix very well with your normal tobacco shishas. Looking forward on testing my other flavors and also mixing. Thanks HeavenLeaf for the opportunity to try it.

Eddie Cheung

Los Angeles, CA